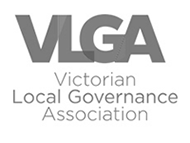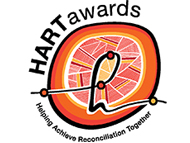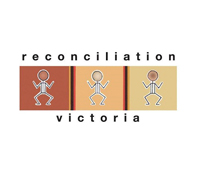 ABOUT THE HART AWARDS
Helping Achieve Reconciliation Together
The HART Awards are a partnership between the Victorian Local Governance Association (VLGA), and Reconciliation Victoria, and supported by Bank Australia and Local Government Victoria. Now in their 8th year, these Awards recognise local Victorian initiatives and champions that make a real difference in their community by contributing to local reconciliation outcomes. 
The awards recognise local governments and community organisations/groups that are Helping Achieve Reconciliation Together. Nominations should be initiatives that demonstrate Aboriginal and Torres Strait Islander and non-Aboriginal people working together, and initiatives that have contributed to strengthening relationships, respect and understanding while demonstrating a commitment to Aboriginal self-determination.
2021 HART Awards
Nominations open 19 February 2021 and close 4 pm Sunday 21 March 2021.
Nominations can be made via this form from the 19 February. Online nominations are preferred, however, an interactive PDF form is available on request. Please contact the VLGA or Reconciliation Victoria for a copy of this form.
PREVIOUS WINNERS
2020 Winners 
Local Government Category
Winner: Mildura Rural City Council
Mildura Corroboree
Highly Commended: City of Ballarat
January 26 - Survival Day Dawn Ceremony
Acknowledgement for Continued Leadership in Reconciliation:
City of Port Phillip
We-akon Dilinja 26 January 2020
Schools or Early Years Category
Winner: Balnarring Pre School
Balnarring Pre-school Living and Learning with Country Pedagogy and Practice
Highly Commended: St Leonard's College
The Warruwi Program
Community Category
Winner: Lord Somers Camp and Power House
Be Deadly @ Somers
Highly Commended: Victorian Aboriginal Community Controlled Health Organisation
Ngangkari support Reconciliation through Traditional Healing for Victorian Communities affected by natural disasters
Acknowledgement of work driving systemic changeSt John of God Hospital Bendigo
Weenthunga - St John of God collaboration
View the 2020 Virtual Ceremony
2019 HART AWARDS
BOOKLET
Video of the 2019 HART Awards
2019 Winners
Local Government Category
Glenelg Shire Council
Demystifying History Documentary & Combined Citizenship Ceremony
Highly Commended
City of Darebin Aboriginal Advisory Committee
Ongoing commitment to the Aboriginal and Torres Strait Islander Community and Reconciliation
Special Mention
City of Yarra
Remember Me: A tribute to the stolen generations and their families
Local Government – Schools and Early Years Category
City of Darebin
Darebin Schools' NAIDOC Yarning Conference 2018 Because of Her We can
Highly Commended
Wyndham City Council
Reconciliation Action at Scale - Embedding Aboriginal Perspectives
Community Category
Whittlesea Reconciliation Group
Kulin Village at Whittlesea Community Festival
Highly Commended
Balnarring Pre-School
Womin djeka Balnarring Ngargee including Book Launch
Special Mention
Bendigo Reconciliation Committee
Driving systemic change: Identifying and addressing organisational white privilege