VLGA challenges councillors to 'Tap Her on the Shoulder' for this year's local government elections.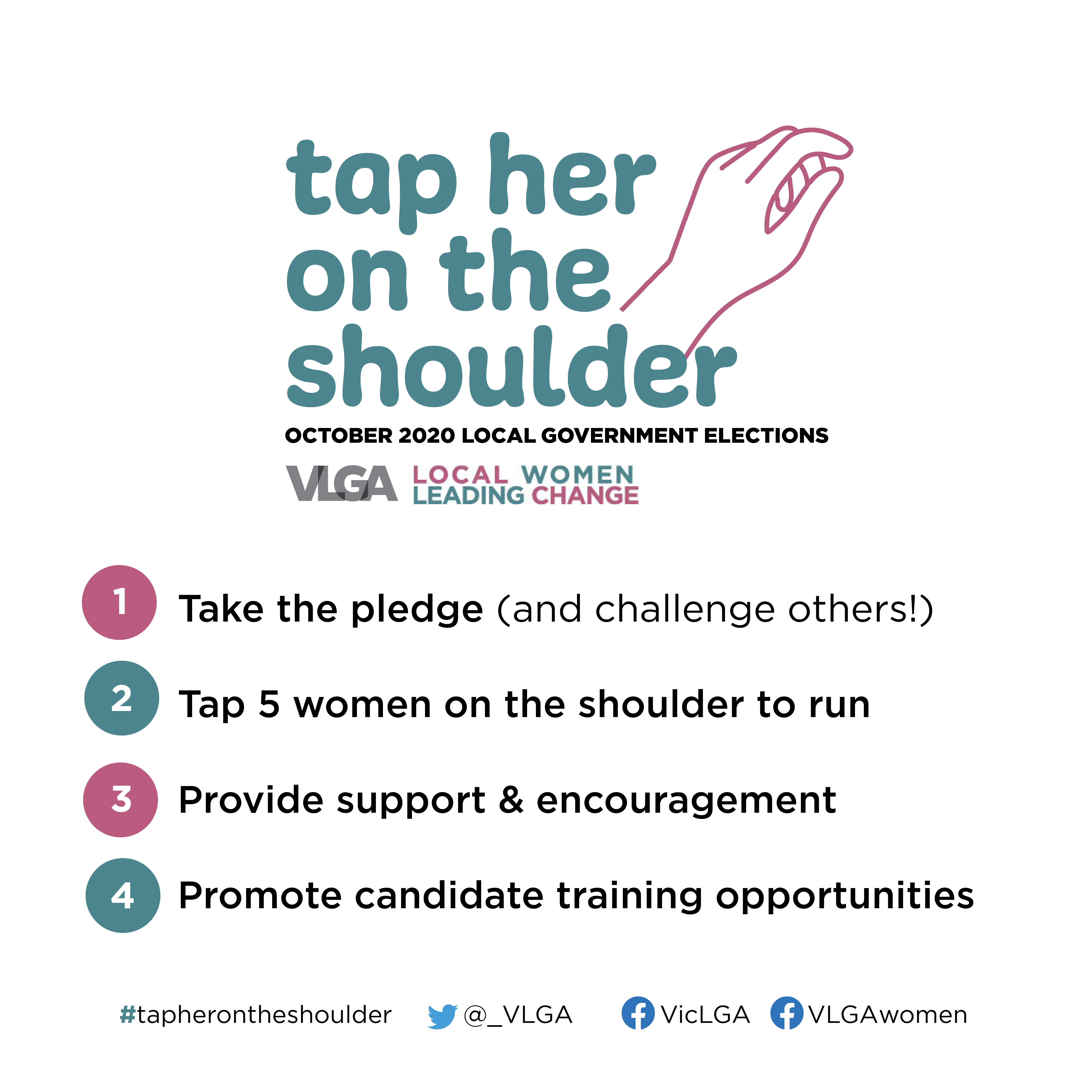 With Victorian local government elections proceeding in October 2020 the VLGA is committed to continuing to support councils and communities in local democracy.
We are determined to continue to support a diversity of candidates – including women – to stand for election, through its dedicated training programs and resources like Local Women Leading Change and Your Community, Country and Council.
Alongside our partner, Gender Equity Victoria, we have expressed concern about the impact of the COVID-19 pandemic on achieving the state government's target of 50 per cent women councillors by 2025 and urged the government to invest in supporting women's leadership.
In order to reach the 50/50 target at the 2024 elections, or in 2020  there will need to be a substantial increase in the number of women councillors elected.
At the last local government elections in 2016, a third of the women who ran were successfully elected. To reach 50 per cent women councillors elected in October, there will need to be about 1000 women candidates.
One of the biggest barriers to women standing for election is the confidence gap,that women often need to be 'asked', or 'tapped on the shoulder' to run.
That is why we are challenging you to 'tap her on the shoulder' and ask 5 women to run.
It is not an endorsement, or alliance  but simply the act of 'tapping a woman on the shoulder may be a catalyst for change.
We are challenging councillors, individuals and community groups to play your part in fostering more representative and inclusive local governments: by prioritising equity, diversity and active participation, and encouraging more women to stand.
To take up the challenge, post a photo of yourself performing your councillor duties, accompanied by the pledge image. Make sure you tag the VLGA and Local Women Leading Change and use the hashtag #tapherontheshoulder.
Downloads
Pledges to date:
Cr Bernadene Voss, City of Port Phillip
Cr Sarah Mansfield, City of Greater Geelong
Cr Danae Bosler, City of Yarra
Cr Marijke Graham, Maroondah City Council
Cr Kim O'Keeffe, City of Greater Shepparton
Cr Kylie Grzybek - City of Greater Geelong
Cr Helen Healy - Mildura Rural City Council
Cr Josh Fergeus - Monash City Council
Cr Susanne Newton - Darebin City Council