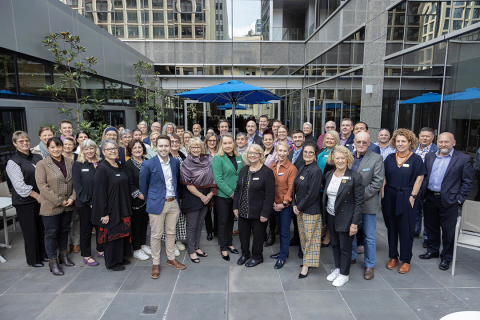 When communities, economies and the environment are well governed; people truly feel that they belong, can contribute, and thrive.
FastTrack 2023 brought together councillors to share knowledge and insights, and collaborate on innovative solutions to the challenges faced by the local government sector.
Over the course of the day, we heard from those connected closely to the local government community on the challenges and opportunities for councils. 
Leading the day, Julia Banks, Ali Wastie and Adam Fennessy joined a panel to share their experiences fostering and promoting a positive culture in and beyond local government. Culture in the current climate is a complex issue, particularly the interaction between a council's values, priorities and goals and how they best reflect the community it serves. Leadership, inclusiveness and collaboration are all key to ensure transparency, as well as long term innovation and sustainability.
The group also heard from Kimbra White, Cathy Henderson and Max Hardy on the importance of effective community engagement practices and when and how to engage with their communities confidently.
Its clear that constructive interactions are key to a collaborative, inclusive and highly functioning council.   Peter Signer discussed how effective communication and collaboration makes for better decision making processes and a more positive organisational culture.
Rounding out the day was Geoff Paine, taking a deep dive into how to break down a problem and map out the best solution and ultimately find the best resolution.
Thank you all those who attended the day and for all the fantastic work you do taking this important work forward.
We look forward to seeing you at our next FastTrack event!